Environmental, social and governance performance is engulfing companies, urged on by shareholders, media and the public at large. As we set out in an earlier article, ESG considerations now need to be integrated into strategic decisions and business planning in order to create business models for sustainable and resilient performance. This will for many undoubtedly require a change of mindset, risk evaluation and reward models.
Many organisations are finding it a serious challenge to link their approach to ESG to strategy and business planning instead of simply being compliance led. There are a number of reasons why this is the case, in particular we find that many companies appear to be struggling with:
• Not putting the ESG focus on checklists and compliance, is difficult for most companies as ESG first became a concern due to regulation and codes of practice and these demands are ever increasing
• Achieving sincerity in new approaches incorporating ESG factors. This may be, for example, due to internal resistance to change, focus on "green washing" or an inability to innovate. Fundamentally, a re-evaluation of the company's purpose as well as strategy is required
• A distinct lack of models, frameworks and data to support better decisions underpinned by a clear evaluation of risk-return trade-offs for each of the capital allocation choices and decisions that a new ESG approach entails
• Contradictions and ambiguity about the relative priorities of the E, S and G, among various stakeholder groups. For example, organisations will increasingly face situations where ESG factors can become hurdles rather than competitive advantages and where there will be a requirement to develop convincing narratives to defend choices. Such choices can be both political and divisive, requiring public relations approaches that most companies are unfamiliar with
• Understanding the actions and behaviours that need to change or be added in order to pursue new strategies incorporating ESG performance within the context of ownership, purpose and the organisation
• How to reward and recognise approaches to support changes of strategic direction. Reward is a primary signalling tool to both employees and other stakeholders in terms of the true commitment to the new direction.
A central theme is that many companies are struggling to assess how decisions will be received by various stakeholders and which set of stakeholder considerations would be most significant for a particular decision or strategic choice. Different stakeholder groups react very differently to ESG concerns and management actions. For example, Boohoo's share price has not recovered from poor publicity regarding the employment conditions at factories in Leicester, but customers reacted differently to the company's practices and response and sales have increased significantly following the scandal.
It is therefore not surprising that organisations are struggling to evaluate the potential impact of an ESG related risk crystallising. Inevitably companies need to navigate which "right things to do" and what to sacrifice. To evaluate the variables of such decisions, it is instructive to ask the following questions:
• Cultural impact: how receptive will the organisation be to a change in direction? What will the consequences be if the organisation resists change, doesn't automatically follow the leadership or fails to recognise the sincerity of the revised strategy?
• Competitive impact: What will the long-term prospects look like if the strategy is updated to incorporate ESG considerations but this leads to a weakened competitive position, e.g. falling behind in R&D, higher production costs or ambiguity that disenfranchises core customers?
• Financial impact: what adverse impact can there be on sales, costs and resulting profits from the actions and behaviours identified as necessary to pursue the strategy, or a failure to appropriately model the risks of an amended strategy?
• Reputational impact: how can the company's standing, including share price, be affected and what level of adverse media coverage could follow when stakeholder groups react differently to the organisations' actions and behaviours or how it rewards success?
It is clear that all of these questions need to be asked ex-ante rather than ex-post, be that in a due diligence, strategic planning, investment or divestment process. However, for this to happen in a consistent manner, there needs to be a recognition and awareness that stakeholder concerns, such as ESG considerations, need to be front and centre in strategic planning and business design decisions. The explicit consideration of ESG will support resilience, viability and corporate survival as well as enhanced consistency between the narrative and delivery on ESG commitments.
The framework below is a good starting point to ensure that a cohesive perspective prevails, incorporating ESG as an explicit consideration for each element of an integrated approach: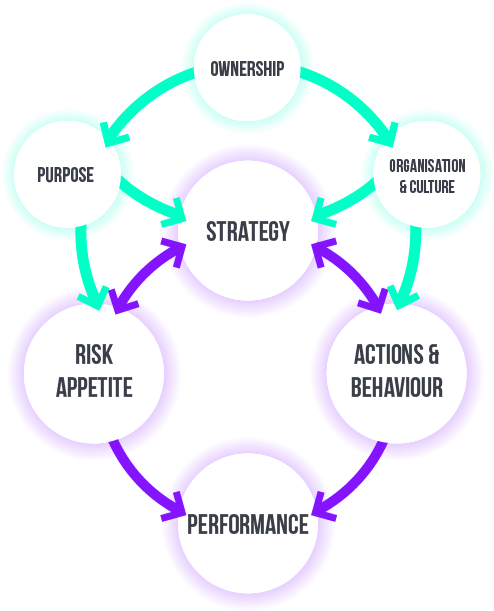 Source: H-K Bryn & C Sjostrom
In conclusion, a fundamental shift is needed for any company to capture the opportunity to reframe and reposition ESG. A practical and pragmatic approach that leverage the skills, data and insight of multiple functions is required to reflect the diversity of stakeholder groups that we are seeking to understand and respond to as businesses. The solutions to these challenges rest on a deep understanding of risk-return trade-offs, underpinned by clear reward signals and communication strategies.
Hans-Kristian Bryn is at associate at Headland and a senior risk management and governance advisor focused on value enhancement and protection. He leads complex risk management and governance engagements for both Boards and EXCOs of FTSE 100 and 250 corporates, as well as PE owned firms.
Carl Sjostrom is an independent senior advisor to company boards and management, working across Europe and with most industries and forms of ownership. With a focus on reward and performance, Carl is a frequent speaker and commentator on topics of strategy, executive pay and corporate governance issues from an international perspective.