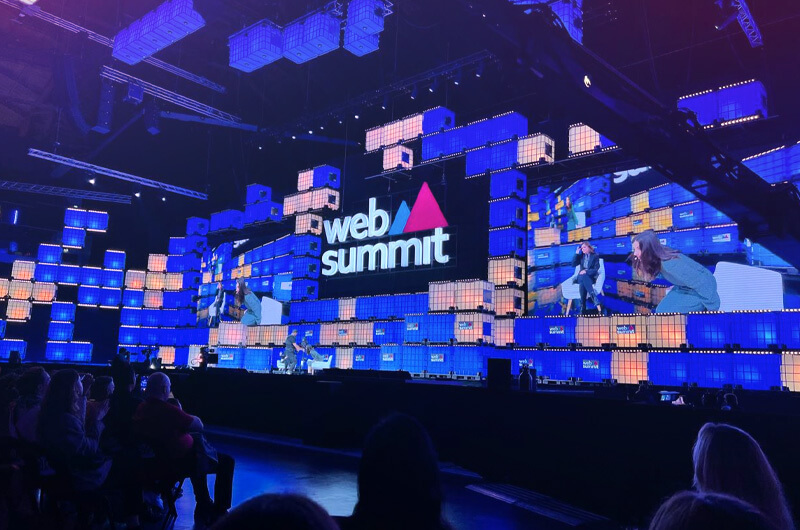 Over 71,000 people travelled to Lisbon last week to discuss all things technology – from sportstech to fintech and everything in between.
With economic storm clouds gathering and tech valuations under pressure, it was interesting to see that the recurring theme of this year's conference was the world of milk and honey which awaits for those who have the patience to see it…or as it's more commonly described, Web3.
So let's get to it.
A period of consolidation in fintech?
We touched on the topic of valuations last month in our Sifted Summit overview – and the messages from Web Summit were very similar. One head of a prominent neobank suggested we're potentially on the cusp of a period of market consolidation in fintech, with claims he has received multiple offers for the business as valuations decline across the board. The march towards profitability will play a key role, whatever the business's exit strategy is, with communicating credibility a critical component of attracting investor support.
Is sports fandom set to be transformed through crypto?
Sports dominated the agenda throughout, with the likes of Patrice Evra, Alessandro Del Piero and Diego Forlan just some of the elite former footballers gracing the stage. Many of them were discussing the deployment of crypto as an enabler of transformed fan experiences. Through the purchase of tokens, fans can gain unrivalled access to their clubs, the players and decision-making processes. This is only set to grow in prevalence – yet it's clear there's still a role for educating the market with scepticism around crypto still evident.
Are we edging closer to Web3 (or Web3.0)?
Whether Decentraland has more than 38 active users, despite the billions invested, is still a topic being debated – but what's clear is the technology industry is all in on Web3. From gaming to content creators, community builders and crypto traders, the case for Web3 is becoming increasingly compelling. Alongside this, Sir Tim Berners-Lee – who probably still knows a thing or two about the internet – was championing the virtues of what he's donning "Web3.0", whereby users have more decision-making power over their own data, with the potential to change the face of how we share our information with brands and beyond.
The debate continued to roll on about NFTs as part of the metaverse ("aren't they just expensive JPEGs?" one journalist asked, for example) – but with the likes of Yugo Labs raising $450m in seed funding earlier this year, backed by a16z, it's clear where the bets are being placed.
Will the future of work be transformed (again)?
As we all know, the pandemic saw us shift our working patterns overnight, with WFH taking centre stage. Such a leap saw organisations forced into major overhauls of how their teams worked and the apps and systems to rely on. Now many of us are back to the office in some way, we're left with a whole host of new collaboration processes being relied on as part of a hybrid approach to work.
Some estimates suggest we now move between apps over 1,200 times a day for work, costing each of us four hours a week. This so-called 'toggle tax' is only harming productivity as we move deeper into hybrid working – and could leave many SaaS companies having to do even more to demonstrate their post-Covid relevance in an already uncertain landscape.
While tech stocks and the industry's future outlook have taken a pretty public battering in recent months, founders were bullish on their prospects for 2023 and beyond. When referring to the crypto winter specifically, one CEO said it's good for the industry – with less noise meaning more focus. To what extent this interpretation bears fruit will remain to be seen. But there's no doubt the tech industry is planning for more than a recovery over the next 12 months, with Web3 at the heart of its return.