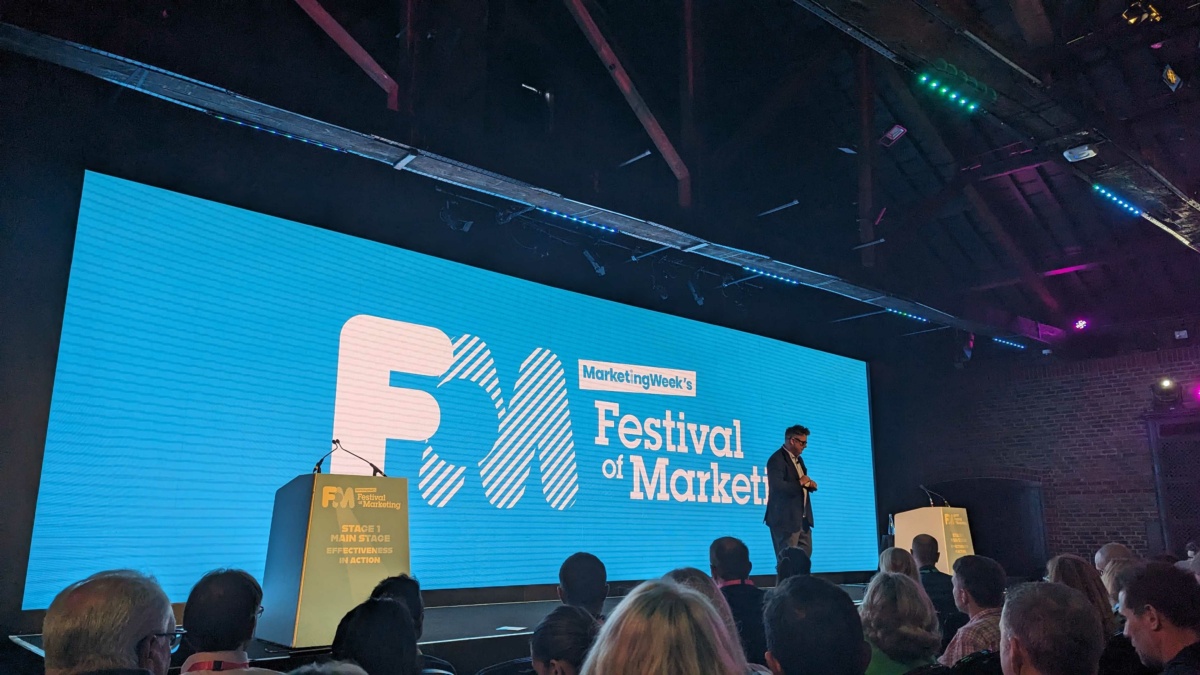 Last week I had the pleasure of attending one of London's leading marketing conferences – Festival of Marketing. Run by Marketing Week, the day focused on five key elements of the marketing mix: effectiveness in action, delivering for customers, setting the agenda, navigating trends, excellence in B2B and developing your career.
Now, despite the 2000+ words I took down in my Notes app – not to mention the plethora of industry jargon and buzzwords – for me, three key threads ran through the fabric of the day.
1. Stop overcomplicating it
Traditionally a marketing strategy considers three areas: segmentation, targeting and positioning. Event opener Mark Ritson (Founder, Columnist & Professor, Marketing Week & Mini MBA) posits that with this approach, we're all doing too much.
We're slicing our audience into tiny fragments and targeting them with extremely niche creative or messaging – which often doesn't reflect the reality of lived experience. Mark challenged us to evaluate whether this is a valuable and an effective use of time and budget.
So often, the most effective strategy is the simplest, and it can cut across all audiences. We've become so accustomed to personalisation and hiding behind glitzy, attention-grabbing campaigns, when, in reality, many of these strategies fail to empathise with the perspective of the customer, or the citizen (because people do have interests beyond purchasing a product!).
Ask yourself, are you constantly producing new creative and campaigns to reflect the needs of your consumer? Or for your benefit?
2. Speak human, and mean what you say
Whilst simplification was a repeated theme on the day, so too was the idea of creating memorable moments. Delving deeper to form emotional connections, because when people feel seen and heard, they take action.
We're constantly told that people have shorter and shorter attention spans and whilst that may be true, the reality is that the market is also much more cluttered, and we are vying for the attention of people who are likely multi-tasking. So, brands need to engage in a more human, more meaningful way.
Not to mention, 57% of customers are more loyal to brands who are inclusive and stand for social change (Deloitte, 2022). If you're not inclusive, you're not representing your customer. You have to be intentional and it's not just about ticking boxes. Brands need to make an active choice to produce products or services that reflect the community around them. In April 2021, Nike released their Go FlyEase range, a hands-free shoe with a hinge-close mechanism designed for those with physical disabilities. Not only was the product designed for the 17% of the world's population living with a disability, but it also unintentionally became popular with the likes of mums and people with back or minor mobility issues.
In September 2022, fashion retailer H&M launched their 'Here for it' campaign that explored the relationship between young women's fashion choices and moments in their lives. Their goal was to create a piece of work that didn't focus on short-term KPI's and instead made their audience feel seen and heard, to kickstart a long-term relationship with the brand. With research at the centre of the campaign, they opted to talk to the consumer, rather than assuming they know them. The social-first campaign successfully demonstrates how to communicate with consumers on a human-level in an honest way.
3. The above lessons apply to an AI-driven world just as much as today
It's almost the festive season and unsurprisingly, understanding how AI is going to affect jobs is on everyone's wish list.
Julia Pilkes, Senior Marketing Director EMEA for Hubspot had a waitlist of delegates standing outside the door with hopes of nabbing standing room in the back of the theatre.
Her message was simple: generative AI is quickly disrupting the way we work, consume, and interact. The question shouldn't be "is AI going to take my job" but instead "how can AI help me do my job". Bad marketing is still bad marketing, so you need smart minds behind the screens who are taking advantage of the technology, rather than fearing it.
It's time to get educated, trial and adopt the variety of AI tools on the market like Chat GPT or IBM Watson. Automate simple tasks such as summarising or reviewing text, calendar management or travel planning. AI cannot replace the empathy and humanity required to build genuine connections, but it can help alleviate the more menial tasks, so your teams can focus on the things that are really going to move the dial.
That's our approach at Headland. For us right now, AI is best employed as a co-pilot that aids us in our work. We're using it as a reliable companion that can assist in tasks like summarising an article or report, providing outline answers and ideas when required, or even generating a first draft that a team member can then build on further. But each of our people is still responsible for their work and meticulously review anything generated via AI to ensure quality and accuracy.
Don't get left behind waiting to be told how it's going to affect you, find out for yourself. But remember, AI should help how you deliver human campaigns and creative – not replace that humanity.
All in all, the real takeaway is a reminder that we are in a people business. Whilst brands have long sought more meaningful relationships with customers and society at large, the industry is still rooted in transactional language and campaigns are built to serve a marketing funnel. We need to maintain a mindset that respects stakeholders as people, rather than just a consumer to drive your business forward.
Read more Insights & News