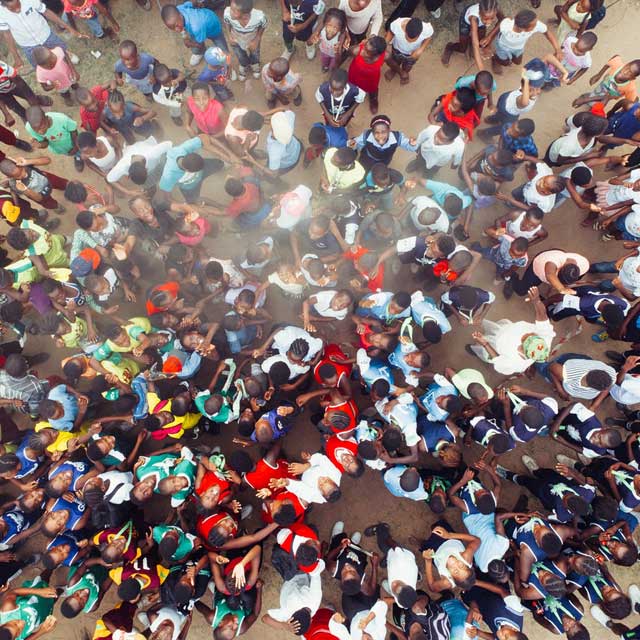 Kat Sladden has been at the forefront of some of the UK's most challenging and inspirational campaigns. At the ONE Campaign, she was part of the team campaigning to make poverty history. Then, as Campaigns Director at Change.org, Kat helped grow some of the UK's most memorable people-powered campaigns, from putting a woman on a banknote and highlighting the plight of the Yazidi community, to the successful No More Page 3 campaign. She has supported activists like Nobel Peace Prize nominee Jaha Dukureh turn a campaign to end FGM into a global movement and founded WeHuddle, a community to inspire and support women to lead change.
Currently, Kat is working with Grenfell United in their ongoing fight for justice for the bereaved families and survivors of the Grenfell Tower Tragedy.
Tell me a bit about your first campaign victory and what it taught you.
I started my career – like all of the best people – in PR and communications, learning how the media works and how campaign messages can cut through to the general public. I had studied the HIV epidemic at University and then went to work for a small HIV charity called the National AIDS Trust, tackling the stigma around HIV/Aids, and from there took a job at the ONE Campaign, Bono's global initiative to tackle extreme poverty and communicable diseases.
At ONE, I was part of the campaign to get Barack Obama to commit to funding HIV treatment in Africa at a time when he had been largely silent on that issue. We did it by organising an event in Washington D.C. for World Aids Day and persuading three former Presidents (including Bill Clinton and George W. Bush) to attend and talk about their commitment to tackling the disease.
We invited Obama – who felt compelled to come because of the guestlist – and then we gave him an opportunity to speak and announce his own plan for tackling HIV/Aids. We persuaded him to announce an additional $50m of funding that would give six million more people access to treatment – essentially through friendly blackmail!
One of the things it taught me – and that made me want to go and work at ONE – was Bono's track record of successfully persuading people from across politics that these issues mattered. That included persuading George W. Bush to back AIDs prevention in Africa by wooing the right of the Republican party, including an influential Senator who was wooed directly by U2, onstage, and converted into one of the biggest advocates for more funding. This gave Bush political cover on the right of his party…and the rest is history.
You meet activists and campaigners who are extremely ideological and I have a lot of respect for that, but I'm a pragmatic campaigner. It's about working constructively with the people who can help make change instead of taking a party line and working together even if they're not people you'd hang out with in the pub.
How was ONE which is structured as a fairly traditional NGO – different to Change.org? And what did you learn while you were there?
At ONE, we were always campaigning for people, but I moved to Change.org because it was about giving people the tools to campaign for themselves. Nobody took online petitions seriously when we started, which is a far cry from today when they lead the news agenda quite regularly.
There was a cluster of campaigns around women's rights which felt ahead of their time. Lucy Holmes, who campaigned for the end of pictures of topless women in the Sun, ran a great campaign. When she started, Rupert Murdoch would occasionally tweet her and the campaign to rile them up… but of course it went on to win.
A lot of the young women who signed that petition were then inspired to go and start their own campaigns. Caroline Criado-Perez, who campaigned to get a woman on the UK's £10 note was partly inspired by the No More Page 3 campaign. Caroline's success then inspired the woman who started the amazing campaign on period poverty (which also won). And so it goes on.
Movements often start from small actions that don't seem that significant at the time but which can quickly snowball and inspire others, especially in a hyper-connected age.
Jaha Dukureh is someone I am lucky enough to know and to have worked with and she is a brilliant example of this trend. Jaha was a mum in Atlanta, working part time in a bank. She saw a petition on Change.org in the UK about ending FGM and was inspired to start her own petition to the US Government to start tracking instances of FGM in the US.
The team at Change.org saw it on the site, were interested in the topic and connected her with The Guardian which gave her a global media platform. This meant that President Obama eventually responded to her petition. From there, she went back to her home country of The Gambia where she persuaded the President to ban FGM there. She was nominated for the Nobel Peace Prize and is now a globally recognised activist. It's quite a journey from that first petition.
Tell me about some of the other activists you have worked with.
The first petition I ever really worked on at Change.org was to get Malala the Nobel peace prize. Through that I met Malala and her amazing family. The first thing she told me – in typically humble fashion – was that she didn't think she had achieved enough to warrant inclusion for the prize!
She is someone who has a presence in a room, even, at that point, as a 15-year-old who had just come out of hospital. Her clarity, bravery and intelligence still inspires me today.
I was also very proud of our work with the Yazidi community, who have suffered terrible persecution at the hands of ISIS. We worked with an amazing young woman from Coventry, called Rozin Hanjool, who took the Yazidi case and story to government ministers via a massive Change.org petition. Rozin was one of first British-Yazidi voices to reach prominence in the UK media, including being interviewed live on the Today programme and taking her case directly to a senior Foreign Office minister.
Tell me about your work with Grenfell United and what it has taught you.
I got a phone call in November 2017 from a contact asking if I could spare some time to help the Grenfell survivors and bereaved families manage their work with the press.
I assumed they would have a bit of a team in place and would just need some advice and extra capacity, but when I met them it was clear there was no infrastructure in place to help these survivors and bereaved families respond to the deluge of media inquiries they were receiving – but hadn't responded to.
Making sure your story is told effectively in the media is, of course, central to any successful advocacy campaign, so I started working with Grenfell United that day, and still do. They realised quite quickly that if they didn't speak to the media then others, with other agendas, would speak in their place.
When I started I had assumed it would be a few weeks of work, but Simon Israel from Channel 4 News told me that when I got to know them and heard their stories I would be there a lot longer. He was right, of course – 18 months on and I'm still helping them to meet their goal of ensuring the long term legacy of that terrible injustice is a change in the way we think about social housing and inequality in this country.
They are one of the kindest and most dignified groups of people I have met in my life. They have taught me so much about dignity and strength. They have had to sit down with those in the Council and the Government who they think have let them down so badly. They have done this because they want to see change and they want to see progress. It is extremely brave and powerful.
Which campaigners really inspire you?
So many, but my favourites are LevelUp, a new feminist organisation run by the fantastic Carys Afoko who has run some amazing campaigns including changing how the media report about domestic violence. You can check them out here.