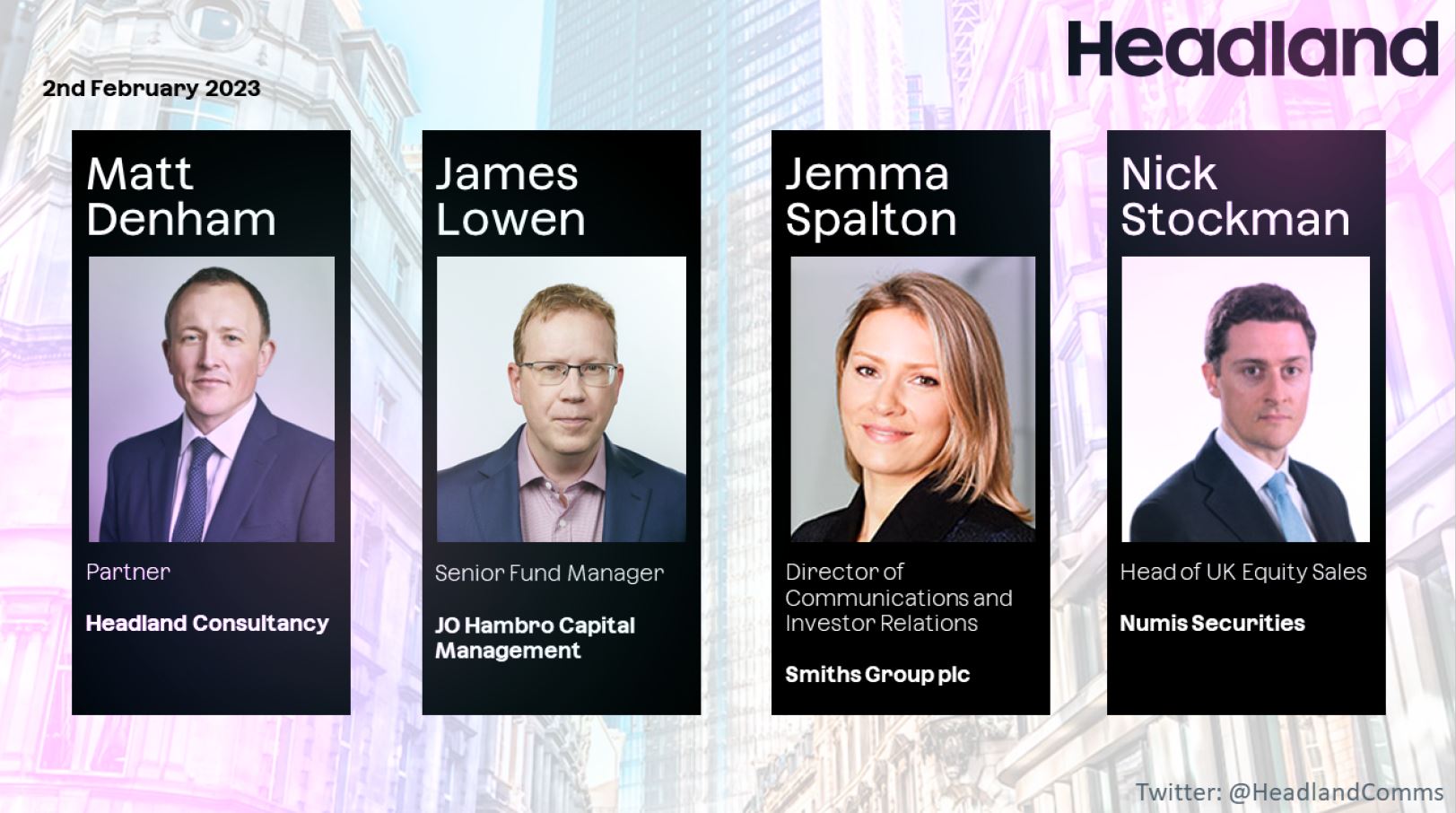 Last week, Headland hosted a panel event for senior investor relations professionals. We were joined by James Lowen, Senior Fund Manager at JO Hambro Capital Management and manager of its £2bn UK Equity Income strategy; Jemma Spalton, Head of Communications and Investor Relations at Smiths Group, the FTSE 100 Industrial Engineering business; and Nick Stockman, Head of UK Equity Sales at Numis.
Our discussion focused on how companies can make themselves most clearly heard by investors, particularly against the backdrop of a more challenging economic environment. Encouragingly, both our panel and our audience found plenty of reasons to be optimistic. At a time of intense global competition for capital, the role of investor relations has never been more important.
For those that missed it, here are some of the highlights:
A great IRO should be an investor's "side-rider". Someone 'firmly in the tent' with management, not simply a conduit to them. A great IRO is not afraid of open and honest dialogue, they have their 'finger on the pulse' of investor sentiment and can translate this back to management and the Board.
Investor relations should be part of a holistic approach to communications. Now more than ever, IR and digital comms go hand in hand. Social media and other owned channels are important tools for keeping companies front of mind for investors; giving a window into day-to-day operations; emphasising key areas of the strategy or investment case; elevating set piece financial moments and, crucially, ensuring businesses can communicate at pace when crisis hits.
Communicate regularly and don't hide away. Particularly when times are tough, don't shy away from the market. Ensure you are communicating through regular financial calendar reporting moments and go direct to investors where necessary – they will appreciate your proactivity, openness and candour. Don't rely on others to make the introduction for you.
Gone are the days of 'tick-box ESG'. Investors on both sides of the Atlantic increasingly expect businesses to integrate sustainability into their strategy, owning an area that is relevant for them. With a plethora of rating providers in this space, providing sometimes conflicting scores, serious investors are doing their own ESG research and challenging management teams and companies that are believed to lag behind.
The use of natural language processing and sentiment analysis is increasingly used by the most sophisticated teams in the UK, allowing IROs to evaluate communications through the lens of a quantitative investor and ensure that the sentiment of a particular piece of content is appropriate before publication.