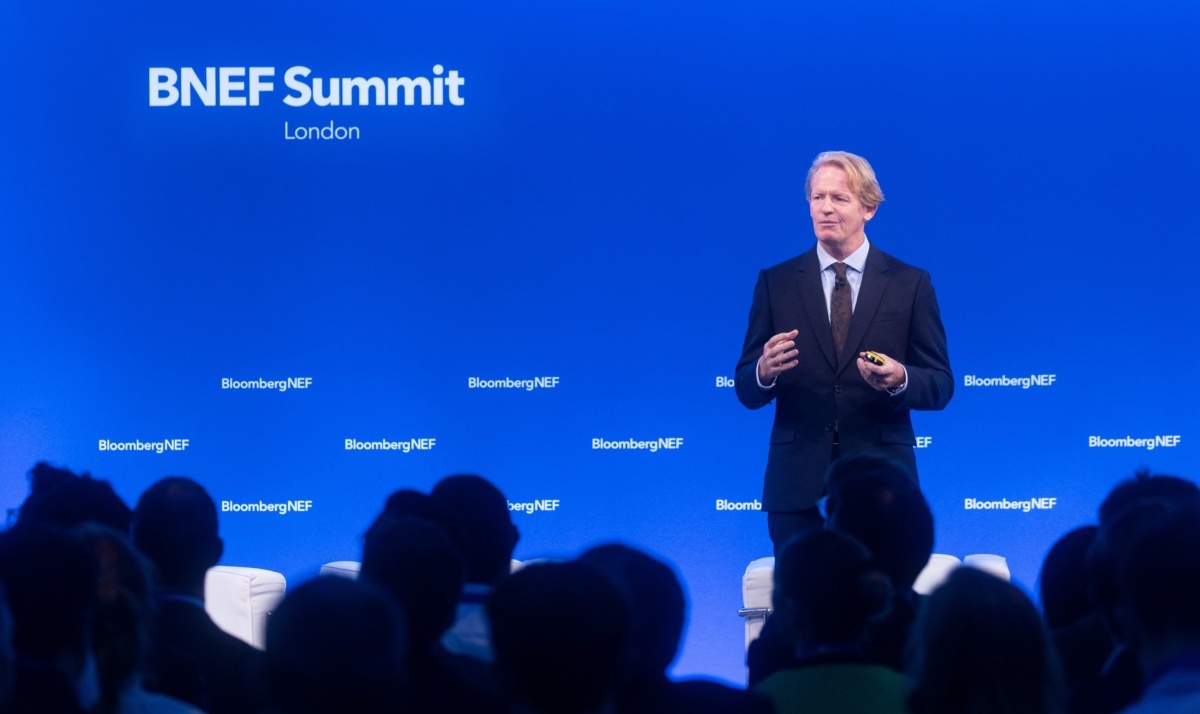 After a brief hiatus last year, Bloomberg New Energy Finance's London Summit was back in full swing earlier this month. As executives from across the energy, finance and technology sectors came together to discuss ways to shape a cleaner, more competitive future, it was a chance to take stock on where the world is at on the energy transition journey.
Heading into the two-day event there were certain developments and macro-economic factors which undoubtedly set the tone:
The world has just experienced its hottest summer on record – with temperatures 1 degree higher than 30 years ago, dangerously close to the 1.5 degree Paris target.
Russia's war in Ukraine has continued to upend European energy markets and the developments in the Middle East are set to cause further volatility for oil and gas prices.
President Biden's Inflation Reduction Act has radically reshaped funding and investment thinking both at a US level, and also impacted global decisions made by clean energy firms.
And finally, offshore wind has had a hard time, as a perfect storm of supply chain delays and higher costs put dozens of projects at risk of not being delivered in time for countries to meet climate goals, causing shares in some companies to plunge.
Amidst this challenging context, the mood on the ground at BNEF London was perhaps surprisingly optimistic. There is clearly plenty of determination and hope when it comes to the energy transition. That being said, there was also lots of realism in the room on the efforts and investments required.
So, what were the main themes and messages from the Summit?
It's time to get moving
BNEF's CEO himself, Jon Moore, hailed the sentiment of one of the planet's most active campaigners Al Gore – that things need to move faster.
We have intent and commitment from governments, and there are still plausible pathways to stay within 1.77 degrees of warming. But, we need to turn talk into action. And now.
That means getting heavy industries to rapidly ramp up decarbonisation efforts, scaling mature tech whilst developing new climate solutions and getting our infrastructure sorted.
Investment needs to ramp up
A threefold increase in clean-energy investment is needed this decade — both in Europe and globally — in order to meet net zero goals.
Moore also discussed that, globally, between $120 trillion and $196 trillion in investment is needed by 2050. Right now, that amount is about $1.1 trillion.
To reach this level, there will need to be more incentives to entice investors away from oil and gas and use their capital to back initiatives and technologies that will aid the transition.
Grids enter the zeitgeist
Investment in the energy transition is lacking in a key area: the network that transports all that renewable power to homes and businesses.
There is a growing awareness that power grids are experiencing growing pains as countries make progress on renewable energy targets. Net zero relies on an unprecedented scale-up of investment in the power grid to help unclog connection queues and enable widespread electrification.
More renewable energy generation is needed, but if the power grids that carry this clean energy aren't up to scratch then the investment is pointless. We need sustained, well-planned investment in these networks.
One of the biggest barriers to adding more renewables to the energy mix remains planning and permitting. Up until now, too many countries have announced renewable energy targets and ambitions without considering the broader context. We need the mechanisms to deliver renewables, which must be embedded and prioritised in planning policies and environmental permitting processes to bring down the time for renewable project development from 5-10 years to around two years.
There is no net zero without collaboration
Partnership and collaboration continue to be key themes for the sector and this year, there was understanding and agreement that the two are needed if we are to even get close to a decarbonised world.
Industry needs to work together came through loud and clear as a message: long term collaborations, sustainable partnerships and shared goals to meet the global aim of a net zero future. That means engaging all stakeholders from governments to businesses, financial institutions to communities.
A case for localisation over globalisation?
The geopolitical conflict that has plagued this year has highlighted more than ever that reliance on one country's energy source can be extremely risky.
There were calls from a number of business executives to decentralise and establish localised supply chains to improve supply chain resilience. This includes looking at local and emerging markets.
Within this, there was also discussion about the need to overcome issues such as local talent shortages, suggesting more emphasis needs to be placed on scaling, reskilling and upskilling efforts.
There's still plenty of determination and hope
Finally, this was definitely not a doom and gloom event. Those shaping the new world are optimistic about our ability to hit targets but we need to be driving changes forward, urgently.
As we set our sights on COP28 next month, and the ambitious agenda that has been set, we hope that leaders use the opportunity to take decisive actions which start to really move the dial forward on the transition.
For businesses hoping to engage in the debate, note that media will be inundated with people giving their two cents. The themes above offer a glimpse of what journalists are likely to focus on and therefore, an avenue for leaders and executives to become part of the conversation.
Read more Insights & News
Image credit: BloombergNEF Events