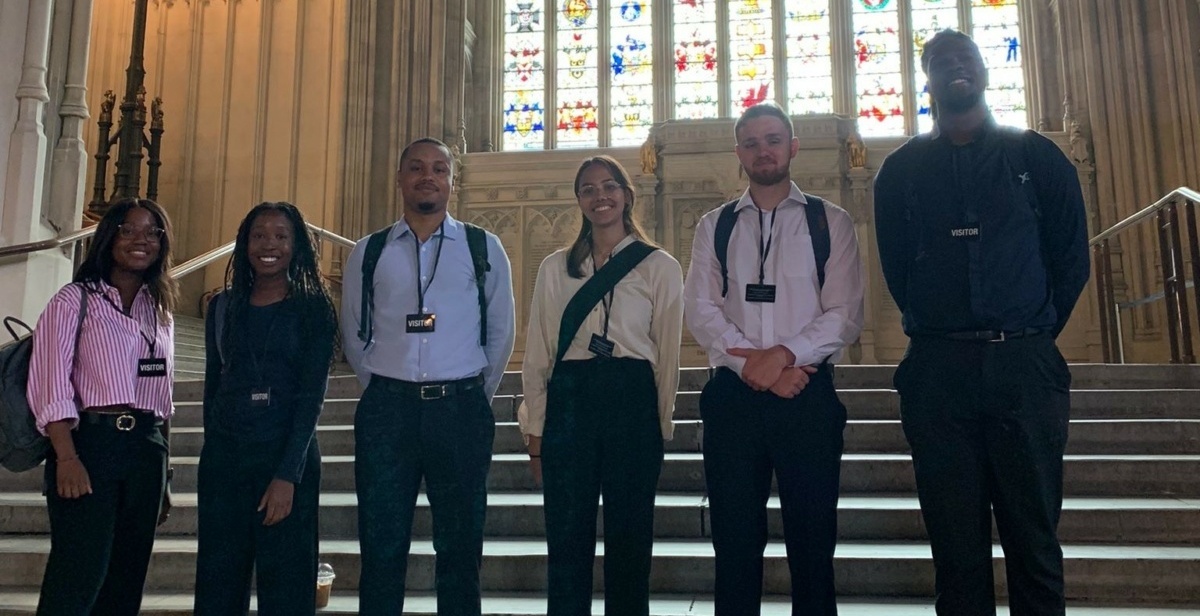 By Headland Interns – Olga Mitala and Zachariah Bosky
This Summer, we took part in Headland's 8-week Internship programme. We are currently at different stages of our academic and professional careers – Olga is going into her second year at university studying History and Spanish, while Zachariah is going into his fourth and final year studying the same degree after an academic year abroad.
Our experience leading up to joining Headland in July and the work we have done in our client teams has given us valuable insight into the PR and communications industry. In this blog we will go through the application process and the ways in which we have acquired the essential skills that will power our future careers.
Applied and thrived
Our journey at Headland began through the Taylor Bennett Foundation, a charity that exists to encourage people from a Black, Asian and minority ethnic background to pursue a career in communications. Headland has worked closely alongside the foundation since 2022 to deliver summer internship programmes that provide aspiring young people with the platform to gain experience within the industry.
To fish out those that have a genuine interest in the PR world, the Taylor Bennett Foundation begins its application process by accepting cover letters that are not based on a specific company. This means that the foundation can assess the suitability of a candidate based upon their genuine interests and skills – rather than their ability to tailor an application to a specific organisation.
Once applications are accepted by the Taylor Bennett Foundation, the charity coordinates with the selected company which then reaches out to the applicants. Luckily for us, our placement was with Headland.
After some in-depth research into Headland's culture of collaboration, we entered the interview process anxious to impress. The interview was an informal chat based on our background and experience, as well as industry specific questions that tested our enthusiasm for what Headland aims to achieve. These included questions such as 'Which client of Headland is of interest to you and why?' and 'Name and outline an example of good or bad PR?' After successful completion of this stage, our summer at Headland was about to begin.
A day in the office
Our first week at Headland was all about equipping us with the skills we would need throughout the internship and beyond. We attended a week of sessions ranging from introductions to the different communications disciplines, to the soft skills that are essential for working in the industry such as writing and organisation.
From our second week onwards, we started client work and although there is no 'typical day' in PR, most of our days followed a similar structure:
Read the papers together over breakfast with the other interns – sharing relevant articles with our client teams
Meetings with client teams to discuss upcoming work we can get involved with
Tasks throughout the day: finding relevant journalists for client announcements or engagement, drafting social media posts, writing briefing notes on MPs or other stakeholders
Research
Our favourite tasks have been longer research briefs as we get to use a variety of tools to tackle larger questions. Being able to present our work back to teams and see the value of what we have done is a very rewarding experience. As a group we have harnessed our teamwork skills by working on strategies for clients such as KFC, The Body Shop and even Headland itself for its Apprenticeships Programme.
Coffee catch-Ups
Learning comes in many different shapes and forms here. Not only have we learnt a lot from our day-to-day client work but also from the wider team. Although a little daunting at first, from day one we have been encouraged to have coffees with colleagues who work on topics we find interesting so that we can understand the industry better.
Learning & culture
We also have weekly 'Headspace' sessions where we have learnt about a huge variety of topics relevant to business and society – from Afro hair discrimination, to environmental behaviour, to the future of the BBC.. The social aspect of Headland has probably been one of the best parts of our internship. We eat lunch together on the rooftop, have gone to breakfast with our co-workers, often attend company socials and as interns we even watched the Barbie movie together! It is safe to say that we have made genuine friendships here.
The Summer internship at Headland has been our first experience in the corporate world. The exposure we have had to the ins and outs of financial PR, public affairs, corporate comms and brand campaigns has certainly surpassed the initial expectations we had when we first entered the Headland office. The trust and responsibility placed upon our shoulders as interns – combined with lots of support and encouragement – has allowed us to greatly develop the skills that will become vital to our careers.
Whether you already have your heart set on a future in the PR world or are simply keen to learn more about communications through hands-on work at one of the industry's top consultancies, a summer internship at Headland is the perfect way to kick start your career.
Visit our Careers page to find out more.