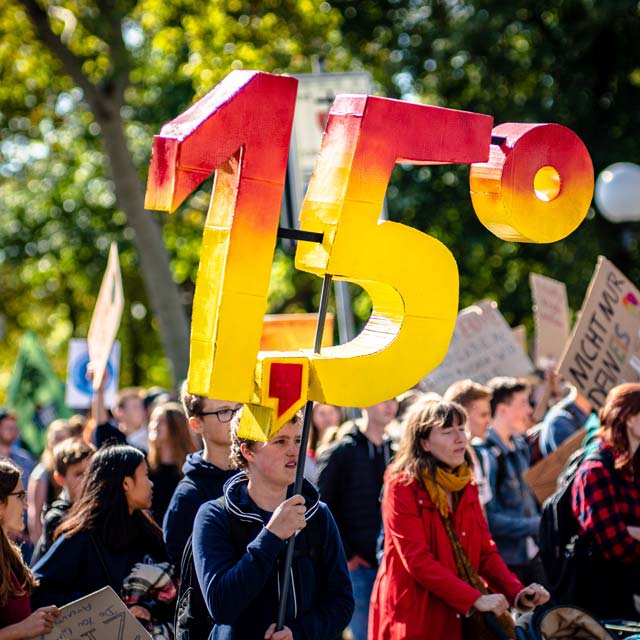 Climate change had a higher profile in the UK general election than ever before, with all political parties competing to prove their green credentials.
Throughout the campaign, environmental campaigners were quick to point out that the Conservative manifesto was light on ambition and policy detail compared to other parties'. And following the decisive election result, many called on Boris Johnson to put substance behind his aspiration of making "this country the cleanest, greenest on Earth, with the most far-reaching environmental programme".
2020 will see the UK host the critical COP26 talks, during which world leaders must assess the future of the Paris Agreement and develop strengthened targets on cutting emissions. As the host nation, the UK will play a pivotal role, with Boris Johnson required to display his finest diplomatic skills to broker international agreement. In the meantime, all eyes will be on the new Conservative government and how it plans to translate its domestic ambitions for net zero emissions into clear and measurable action.
This note outlines what the election result and the UK's forthcoming departure from the EU mean for climate change policy, and the implications for industry and businesses.
Key policies and implications for business
While the Conservatives dedicated a whole section of their manifesto to climate change, the party stopped short of advocating some of the tougher policies put forward by other parties. In fact, Greenpeace's assessment of parties' environmental policies put the Conservatives second from bottom, while Friends of the Earth concluded that the manifesto was missing significant commitments in many areas and was actively damaging in others.
Of course, manifestos do not present an exhaustive picture of how a party will govern if elected. Nonetheless, the Conservative manifesto provides an indication of the areas of climate change policy where the newly-elected Government is likely to pay greatest attention, and the implications for businesses operating within these sectors.
Net zero carbon emissions – while other parties pledged more ambitious deadlines for reaching net zero, the Conservatives stayed firm with the legally binding 2050 target announced in June. The challenge for the Government now is to develop detailed roadmaps for how key industries need to be transformed to meet this target – plans which are largely absent from the manifesto. The Treasury is also due to publish the outcome of its landmark Net Zero Review into how the costs of this transition should be funded towards the end of 2020 – drawing criticism for a perceived lack of urgency. The review's aim is to avoid placing unfair burdens on families or businesses, while also maximising the economic opportunities of decarbonisation.
Energy – the manifesto provides little detail on what role the Conservatives see the energy sector playing in the transition to net zero, with a simple statement on "increasing our commitment to renewables" but no firm policy detail on solar power, the national grid or onshore wind. The main exception to this is a reassertion of the party's commitment to offshore wind, with a promise to reach 40GW of capacity by 2030 and a pledge of support for new floating wind farms. We are also expecting publication of the Government's long-awaited Energy White Paper in Q2, which should set out a clear blueprint for how the UK can deliver a low carbon economy.
Waste – building on policies outlined in the draft Environment Bill, including extending producer responsibility for packaging, the Conservatives have promised to ban the export of plastic waste to non-OECD countries lacking recycling infrastructure. This will have a logistical and commercial impact on UK producers by placing additional pressure on a UK recycling system already under strain.
Transport – following warnings from advisors that the current 2040 target is too far away, the Conservatives pledged to consult on an earlier phase-out of the sale of diesel and petrol cars. The party also outlined a package of measures to further develop the UK's electric vehicle infrastructure. However, the commitment to invest £28.8bn in local and strategic roads – while other parties prioritised spending on walking, cycling and rail – has been criticised as sending the wrong signals on reducing transport emissions.
Agriculture – post-Brexit, the Conservatives want to see farmers who "protect and enhance" the natural environment rewarded through the funding system. The forthcoming Agriculture Bill is expected to reward farmers with "public money for public good".
In the wake of the election result, Lord Deben, Chair of the Committee on Climate Change (CCC) – the body that provides independent advice to government on climate change – wrote to Boris Johnson saying that the UK's actions to date had "fallen short" and urging him to bring forward new policies as a matter of urgency. Lord Deben was clear that the Government will need to go much further, introducing bolder policies than those included in the manifesto, if it is to meet its 2050 net zero goal.
While Johnson may not have immediate plans to put further policy detail behind his Government's net zero pledge, the CCC's intervention is likely to place additional pressure on him to move faster on the transformative changes that are needed.
Brexit: what does it mean for climate change policy?
The Conservatives' decisive victory has given Boris Johnson the ability to plough ahead with his Brexit plans. This shift was depicted in the changes made to the Withdrawal Agreement Bill (WAB) – the legislation that implements the UK-EU Brexit agreement – when it was brought back to Parliament before Christmas. In a sign of the increased power of government, the WAB did not include specific provisions on workers' rights and environmental protections, which were promised before the election in order to attract much-needed support from Labour MPs.
As a result, UK commitments to upholding environmental standards post-Brexit only feature in the non-binding Political Declaration. This forms part of a "level playing field" commitment for any future trade deal, whereby the UK would have to converge with EU regulations in key areas to prevent the UK from undercutting European businesses. Issues that will be up for discussion include the UK's involvement in the EU emission trading scheme, a key component of the bloc's emission-reduction programme. With no legal obligation to maintain current standards if no trade deal is agreed, environmental campaigners have voiced concerns that the UK could renege on EU directives – for example, on industrial and transport emissions – in order to pursue trade deals with other countries.
More broadly, the UK has played a central role in the EU's efforts to date on climate change, decarbonising faster than any other member state and setting an example through its world-leading net zero legislation. Brexit will end the UK's influence over future EU climate policy, potentially handing greater prominence and power to less ambitious members of the bloc – a key concern raised by climate experts. Not only does this risk weakening the EU's overall climate diplomacy, but it could impede future UK-EU cooperation at an international level such as at COP26.
So, while the Government has repeatedly stated that it has no intention of lowering or "diluting" environmental standards or protections in future, it remains to be seen what material impact Brexit will have on the UK and the EU27's contribution to global efforts on climate change.
Personalities and government structure
Boris Johnson carried out a minor reshuffle following the election, replacing ministers who had been unseated. As part of this, Zac Goldsmith, who lost his seat, was given a peerage, allowing him to remain in post as Defra minister responsible for international environment, including climate. Having spent most of his political career campaigning on ecological issues, climate is likely to continue to be a big focus for Goldsmith as a minister in the Lords.
Johnson is now planning a more comprehensive overhaul of Whitehall bureaucracy in early February, once the UK has officially left the EU, with the aim of supporting the UK's post-Brexit economy. There has been widespread speculation of plans to reinstate the Department of Energy and Climate Change (DECC) as part of these reforms, reversing the 2016 decision to merge DECC and the Department for Business (BIS) into the Department for Business, Energy, Industrial Strategy (BEIS). If this does materialise, there will once again be a government department and Secretary of State dedicated to climate change policy: a sign of recognition by the Government of the scale of the challenge that will be welcomed by campaigners and climate experts. However, the CCC has stressed that this alone will not be enough. They want to see all departments prioritising climate change and strong leadership from the Prime Minister himself.
2020: a pivotal year for global climate action
This year will be key for global efforts to combat climate change and the UK will be at the heart of it. Boris Johnson will have to navigate negotiating a UK-EU trade deal with environmental standards at stake alongside orchestrating international cooperation at COP26 – while also demonstrating leadership by proving that the UK is making progress at home.
With much policy – domestically and internationally – yet to be decided and fully fleshed out, the full implications for business are not yet entirely clear. What is clear is that public concern over climate change shows no sign of abating, so businesses can expect to face continued scrutiny from consumers and customers as well as policymakers.