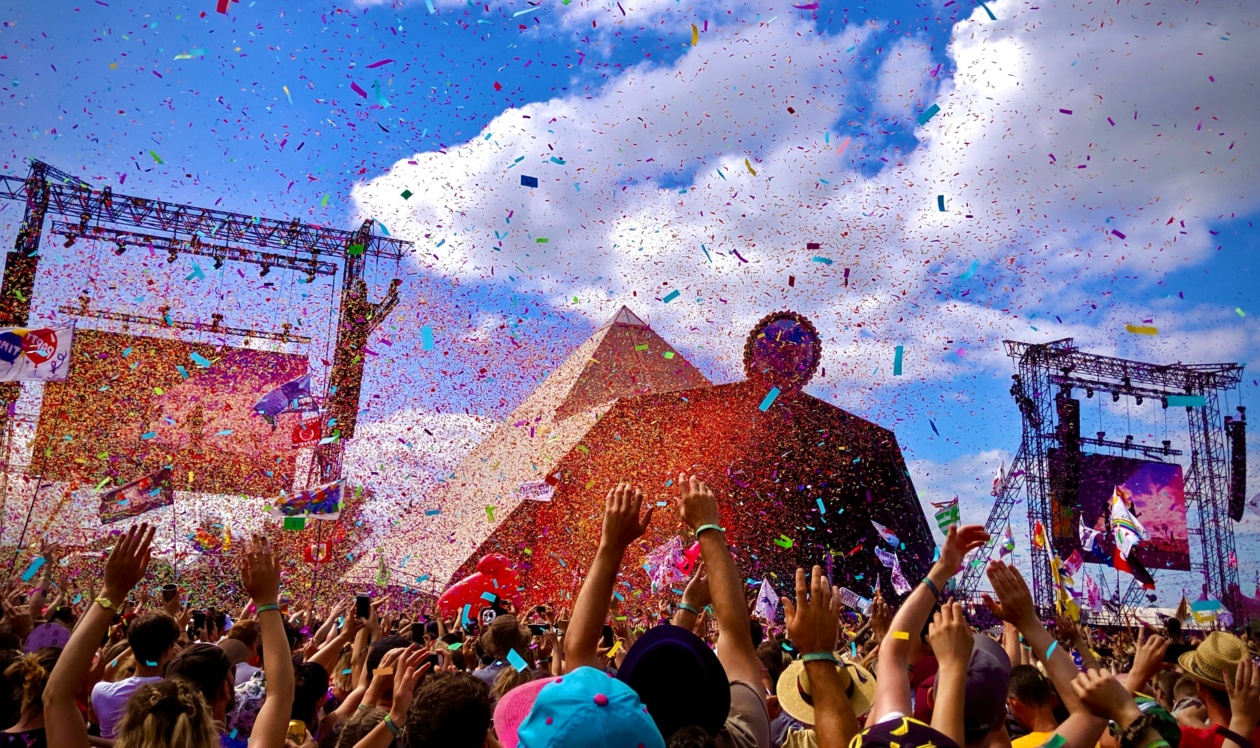 It's been a week since I travelled home from Glastonbury Festival. Now the dust has settled, and I am a fully functioning human again (my apologies to caring colleagues and concerned clients), I've taken some time to reflect on the takeaways for brands from a wonderful weekend at Worthy Farm.
Glastonbury is certainly an experience – and one that conjures up all sorts of images and memories. The legendary music stages, sweaty crowds, glossy green (or dusty brown) fields, toilets (best to forget), and fun memories with friends.
But if there's one thing that's conspicuous in its absence, it's the widespread presence of brands that you find at many other festivals.
For decades, Glastonbury has resisted the lure of wholesale corporate capitalism. The festival could make millions if it worked with more sponsors, but the organisers choose not to and have no plans to change that.
Indeed, it's one of their founding principles that they will never 'sell out' to corporate logos – despite the sweeping commercialisation of the world of music events. The organisers have kept the Eavis' family ethos at its heart and stayed true to their idealistic roots.
So, how do brands engage with and celebrate one of the world's largest, most iconic, and widely loved music festivals in an authentic way?
Here's three of my takeaways:
1. Be creative and give up some control to earn your place
Very little corporate branding is allowed on site, but there are brands who show up – and do it well – by giving up some control.
If you're a consumer goods or manufacturing company, you could offer suncream for struggling Brits, hand sanitiser at the loos, or refillable water bottles.
If you're a telecoms or media company, you could provide a range of services from network connections (who has ever said no to free Wi-Fi?), app support to on-the-ground tech.
Partnerships are another option – but they must be meaningful. You could team up with one of their charity partners: Oxfam, Greenpeace or WaterAid. TikTok partnered with Glastonbury for the first time this year to raise money for Oxfam and WaterAid through a livestream gifting campaign.
Or you could work with one of the many activist influencers who gather around the Left Field stage for a more political experience – just make sure your company is either fully aligned with the influencer's views, or alive to the risk of healthy disagreement and debate. There is no place for tightly controlled brand playbooks here.
If you're a food & beverage company, there's an incredible array of food trucks to feed hundreds of thousands of hungry festivalgoers. Almost all of these are independent stalls, but there's a place for bigger brands as long as you get creative. Just look at Domino's trialling the world's first ever jet suit pizza delivery with Gravity Industries. The driver-turned-pilot took off, flew over the fields and landed with a tonne of free pizza.
Fans loved it, media loved it and I'm gutted I didn't get a slice.
2. Remember people are more than just 'fans'
There's a lot to learn about how citizens and communities interact with society, business and government from how they show up at cultural cornerstones like Glastonbury.
Glastonbury is age and genre agnostic. The festival finds space for legendary rock bands, emerging indie talents, soul singers, pop icons, hip hop artists and electronic DJs. Each one brings with it a community which comes together to celebrate their individual and shared passions.
I love that we're seeing more genre fluidity and less rigidity in music tastes. People aren't afraid of diversity.
You don't have to be a pure metal head or a techno raver. Why can't I like The Chicks, Foo Fighters and Annie Mac?
What's not to love about the fabulous energy of Lil Nas X who seamlessly blends pop, hip hop, rap, rock and country music?
There's a lesson for brands in this. Many corporates have long sought a way to have more meaningful relationships with people, but the dialogue between brands and "consumers" is still based on transactional language. If we resist the urge to over-segment the market and categorise citizens, brands will open themselves up to a multitude of communities who are more fluid and open than ever.
There's huge potential to reimagine brand and citizen engagement if we invest in what's bringing people together rather than breaking people apart.
3. Take a risk with trailblazers
Glastonbury was filled with trailblazing talent – many of whom found new, far-reaching audiences through the power of social media during the pandemic. Brands which are willing to take a risk in new, emerging talent can see that pay off when they grow in popularity.
TikTok has supported several young British artists that performed on some of Glastonbury's biggest stages this year: rappers Aitch and Central Cee delivered amazing sets on the Pyramid and Other Stages, while Cat Burns took to the Woodsies. Cat built an engaged fanbase on TikTok during lockdown in 2020, before breaking into the mainstream and the top end of the charts, securing a BRIT Rising Star nomination this year.
And look at Lizzo. She spent years in the DIY trenches before her overdue pop breakout. The first time she played Glastonbury in 2019 was "in one of those big ass tents, with nobody in there" (her words, not mine), before rising up the bill to a packed evening set at the Pyramid Stage with a huge crowd that loved her feel-good energy.
So there's a way for brands to add value, drive impact, and lift the experience of fans at the farm, while earning a valuable place among the Glastonbury community. It needs to be in a way that feels authentic, while respecting the values and ethos of the farm.
Until next time, Glastonbury – if I'm so lucky to get a ticket.
Read more Insights & News